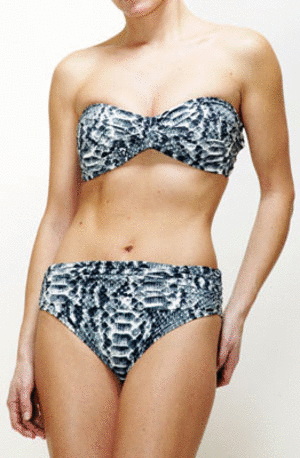 Carmen Marc Valvo is one of my favorite swimsuit designers and he is also one of my best-sellers! I have many suits from his line whether you or looking for a bikini, a one-piece, or a cover-up. Stop by my booth and take a look. I have them MUCH cheaper than you will get them at Neiman Marcus or Saks Fifth Avenue!
Carmen Marc Valvo is an American designer who, since 1989, has been exploring his desire to bring glamorous dressing to every woman's life. Although his sumptuous creations have made him a favorite among Hollywood's top leading ladies including Beyoncé, Catherine Zeta-Jones, Lucy Liu, Oprah Winfrey, Kim Cattrall, Queen Latifah, Radha Mitchell and Vanessa Williams, it's his devotion to his non-celebrity clients that have made him a star. TIME Magazine stood up and took notice of Carmen after his Fall 2005 collection in a feature story saying "While other designers seek to shock, Valvo's creations shine in the marketplace."
Valvo's professional career began as a designer for Nina Ricci in Paris, followed by a stint at Christian Dior. Buyers at both Saks Fifth Avenue and Neiman Marcus have been won over by Valvo. His swimsuits are highly anticipated and sought after.
Valvo's superb tailoring, understanding of fit issues and masterful detailing have distinguished him from his peers. "Over the years, the designer has demonstrated the talent to do it all."
http://www.bonanzle.com/booths/fashionrunway